More than $58 BILLION dollars of assets have been "escheated", or" confiscated, by state governments in the US, and are just sitting in state funds, awaiting your retrieval.  Even more has yet to be recognized. The State of Florida, for example, currently holds an estimated $2 billion worth of unclaimed money that can be claimed by their owners any time.
People forget about property and assets they own.  Additionally, people don't know that their loved ones have or had assets and, even if they were told, they may have forgotten where they are.
And that's where NAUPA.org and MissingMoney.com come in.  They help, FOR FREE, to help you find money and assets you've lost or forgotten about!
These assets are called "Unclaimed Property".  A non-profit organization called NAUPA, the National Association of Unclaimed Property Administrators, is charged with helping oversee unclaimed property.   NAUPA has members from every state in the US, including DC.  Its role is to set and foster the highest standards, professionalism and best practices in raising awareness of, protecting and returning unclaimed property to its rightful owners.
Per NAUPA, unclaimed property is defined as "accounts in financial institutions and companies, that have had no activity generated or contact with the owner for one year or a longer period". Various states set different periods of time before escheating property. Florida, for example, has a five-year holding period on most assets.  Florida's chief financial officer, Jimmy Patronis, says one in five Floridians has unclaimed property waiting for them. That's why the CFO has launched the "Florida Treasure Hunt" to spread the word and help people recover cash they might not even know about. Last year, FL paid out $349 million dollars in missing money!
Forms of unclaimed property can include assets such as bank accounts, uncashed checks, money orders, gift certificates, stock and dividends or court funds, insurance policies and property from brokers/dealers, credit balances, payroll checks or bond interest, utility deposits, refunds, traveler's checks, trust distributions, insurance refunds, annuities, certificates of deposit, bearer bonds, customer overpayments and contents of safe deposit boxes, as examples.
Unclaimed property held by state governments doesn't include contents in storage units, which get sold if abandoned.  And it doesn't include items that have been "hidden" in a home, like dollar bills inside books or under mattresses, or jewelry, gold bars, coins or other assets that have been stashed away.
The most common reason abandoned property is turned over to the state and becomes unclaimed property is when a resident of that state:
Moves without notifying every business contact

Forgets about accounts it may still have open 

Has checks that have been lost in the mail, uncashed or put in a drawer and forgotten.

Has no account information or process for notifying heirs upon his or her death. 

Important:  There's currently no statute of limitation on unclaimed property.  You can claim and recover property that was escheated 50+ years ago and even unclaimed property of deceased relatives, if you were an heir.   And, depending on the state, it may include interest! (FL doesn't include interest.)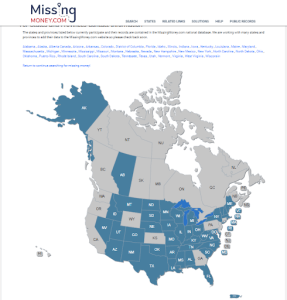 Finding out if you or a loved one has unclaimed property is easy.  People can check to see if they have any awaiting them, for free, by going to NAUPA's site, www.MissingMoney.com, a free site sponsored by NAUPA, or to www.unclaimed.org.  The databases that house unclaimed property records are located and maintained by each state, not by these two sites, but www.MissingMoney.com lets you do a national search and both sites let you link to individual state unclaimed property databases, right from their website.  
Note:  The MissingMoney.com website does not cover WA, OR, CA, WY, KS, GA, PA, CT, NJ, or DE but does show the links to those sites.
Steps to Search for and Claim Unclaimed Property
Go to

www.missingmoney.com

 

or

www.unclaimed.org

.

Click on the map and then the state in which you want to check for unclaimed property.  You'll be taken to that state's unclaimed property section of its government site.

Click on "START YOUR SEARCH" and type in your name – the name that you had when you lived in that state.  A list will appear showing all the people and their addresses, for that name and variations of the first name, for which the state has unclaimed property.  Depending on the state, it will even list the reporter of the unclaimed property, so you can see where the property came from and if the value of the property is above or below a certain amount of money, such as $50 or $100.   

If you see that one of the addresses is a match for you, (Congratulations!) you can initiate an unclaimed property initial inquiry by clicking on the record number or the name of the person listed for that record (states differ).  You should allow about 120 days for the initial inquiry to be processed.  

Once the state acknowledges that this property could be yours, it will send you another form and request documentation to establish ownership/identity as the rightful owner.  State-specific claim instructions will be provided with the claim form.

Legitimate proof of your right to claim unclaimed property includes a) proof of address and b) proof of name at the time of the escheatment.  Anything that officially lists your previous address is sufficient.  To prove your name (perhaps you weren't married then, so it would have been your maiden name), a copy of a marriage certificate or court document showing the name change is sufficient.  The two best and easiest documents to use as proof would be the front page of your tax return and a utility bill, both of which should have your name and your address at the time of the escheatment.  Hint:  To ensure that you have proof for future escheatments, scan each of those two documents back as far as you can and store them safely (hard copy and digitally, for longevity and backup).  Going forward, do the same, each year.  If you are claiming property from someone who is deceased, you will additionally need to provide documentation that shows your relationship or right to claim, e.g., an obituary or court documents listing you as the representative or heir of the estate.
For additional places to look for unclaimed funds, please see this article:
https://www.usa.gov/unclaimed-money#item-213400
http://www.treasurydirect.gov/indiv/tools/tools_treasuryhunt.htm
https://www.pbgc.gov/about/pg/contact/contact-unclaimed  – tracks pensions owed to retirees
UnclaimedRetirementBenefits.com – by SSN only
askebsa.dol.gov/abandedplansearch – need to know the plan info
To date, the largest unclaimed property recipient was a woman in Kansas City, Missouri, in 2011, for $6.1 million, from a stock that her ancestors had invested in, years ago.  The stock had gotten lost in passing it down from one generation to another.
That's it!  The best kept secret around.  The only cost is your time… and you do need to be patient.
If you need help, don't hesitate to contact us at support@pinventory.com (for free) and if not, happy hunting!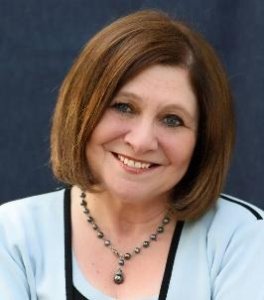 Carol R. Kaufman, Founder/CEO of Pinventory, LLC, is the creator of Pinventory® Home & Business Inventory, a combination of software and services to help pull all of your important information into one safe, secure location (pinventory.com). Her first product, InvesTier®, was acquired by SunGard in 2002. An entrepreneur for over 40 years, Ms. Kaufman's specialties include public speaking, training and software/service-based solutions to organizational problems. She resides in Hawthorne, NJ.