The last will and trust of late Cubs Hall of Famer Ernie Banks is going back to court, adding a new chapter to the story of who ultimately inherits Banks' estate. It seems that Banks' estranged wife, Elizabeth, simply cannot accept the terms of the will Banks signed three months before his death in January 2015 – probably because he bequeathed his entire estate to his longtime friend and caregiver, Regina Rice, instead of to his wife and children.
Last week, a judge authorized Banks' estranged wife, Elizabeth, to file new causes of action against Regina Rice, a longtime friend and caregiver of Ernie's. But this is not the first time that Elizabeth Banks has contested her husband's will. Immediately after his death in 2015, she filed documents with the probate court claiming that her husband had dementia and was being manipulated and controlled by a greedy Rice, who was only after his money. But Rice claims that Ernie Banks had asked her to make sure that his estranged wife didn't get any part of his estate, a claim supported in part by a letter Ernie sent his wife in 2013, demanding that Elizabeth stop claiming any right to his personal or business dealings.
In the years prior to Banks' death, he and his wife had been going through a difficult and protracted divorce, which seems to have only added to Elizabeth's determination to discredit his last will. That, and the fact that the whole time this long court battle has slowly played itself out, Regina Rice, named executor by Banks, has been managing Banks' estate. She has reportedly attempted to auction off some of Banks' valuable memorabilia and possessions, including his 1877 Hall of Fame ring.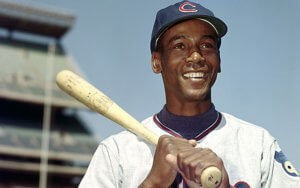 According to the lawyers representing Elizabeth Banks, the new causes of action are based on new evidence that Banks' last will and trust was possibly changed after he signed it. Either that, or it was incorrectly dated to begin with. Now having been given a green light from the presiding judge, the arguments on this new challenge will begin in late October. If her new challenge prevails, Elizabeth Banks may finally get what she believes is hers – minus thousands of dollars of court costs, attorney's fees, taxes, and any amounts spent by Rice over the last four years.
Here's the real kicker: according to Regina Rice, Banks only had assets worth about $16,000 at the time of his death. Other estimates place his estate somewhere between $100,000 and $1 million. No one really seems to know, making Elizabeth's continuing struggle appear all the more desperate. The sad truth is that once the courts and the attorneys have taken the lion's share of the estate, there may not be much left over, even if she does eventually win her case.
Situations like these demonstrate how important it is to have a strong and incontestable estate plan in place long before you think you need one. By changing his will in the midst of his divorce and declining mental and physical health, Banks opened up his estate to challenges from his estranged wife. While I doubt that a long, drawn-out court battle over his estate is what he really wanted, Banks may have invited in all this trouble by waiting so long to put his affairs in order. So here is the simple lesson learned from the story of the Banks estate: don't wait. Protect your assets and your loved ones from probate and court battles with a quality estate plan, and do it today!