Want to Learn More About How We Can Help
Protect Your Assets and Your Family? Call Us 24/7!
We are Always Happy to Hear From You!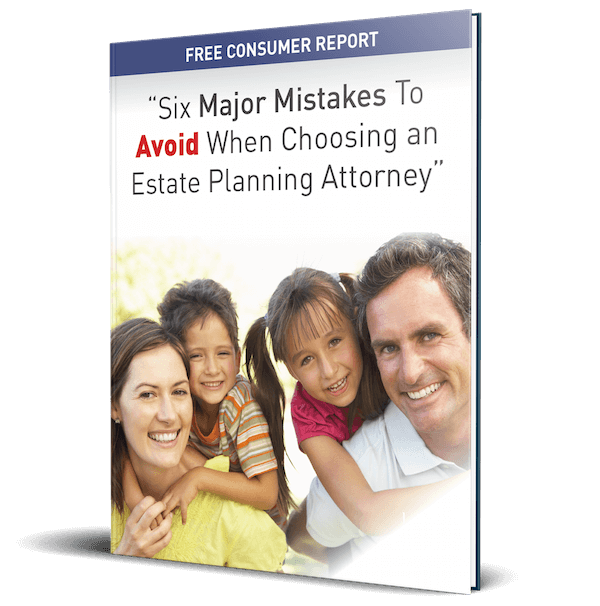 DOWNLOAD this guide now to learn how to stay in control of your legal affairs and get the support and protection you and your family deserves.
Discover how you can cut through lawyer talk and avoid the costly mistakes made by so many when choosing a lawyer for their family's legal planning needs.
Not all estate planning lawyers are the same, and how to recognize the attorney who is the best fit for your family's needs and unique planning goals is not easy! You don't have to fear being taken advantage of, paying for services you DON'T need or hiring a Lawyer who won't be there for you or your family during life's most challenging transitions.
70 Years of Combined Planning Experience
Only Attorneys – No Paralegals
Bilingual – English & Spanish
Flat Fee Packages Customized for Your Family
Super Lawyers Ranking 2015, 2016, 2017, 2018
Download this guide now to learn how to stay in control of your legal affairs and get the support and protection you desire.
In our FREE REPORT YOU WILL DISCOVER:
Does your family need a will, trust or even both?
How to make sure the firm you work with will keep your documents updated as your life and the law changes through the years—and how not having this protection can cause your documents to FAIL when your family needs them most.
Whether or not you have the right legal documents in place to keep your family wealth protected and make things as easy as possible for your loved ones following your death or incapacity.
Why naming permanent guardians is just not enough to keep your children from spending time in foster care.
How to ensure your inheritance is preserved for your kids, and not a new husband or wife if the surviving spouse remarries, NO MATTER WHAT.
How to keep the courts from calling the shots over your medical or financial affairs if you are disabled or incapacitated, and why most estate plans fail to deal with this.
How to keep your family out of probate (which is the long, expensive, costly, and totally public court process that people have to endure if they don't plan).
How to prevent a court from having to supervise your children's inheritance and then handing them money at 18!
How to leave your loved ones a gift far greater than all the money in the world if the unthinkable happens.
BONUS
A downloadable certificate is available at the end of the guide to come in for a FREE Family Wealth Planning Strategy Session with an Attorney ($800 value!) Give yourself peace of mind and begin to get your ducks in a row with no cost, pressures or hassles.

The hiring of a lawyer is an important decision that should not be based solely upon advertisements. Before you decide, ask any of the Attorneys at Trust Counsel to send you free written information about our qualifications and experience. The information you obtain at this site is not, nor is it intended to be, legal advice. You should consult an attorney for individual advice regarding your own situation.
Trust Counsel, PL
201 Alhambra Circle, Suite 802
Coral Gables, FL 33134
Phone: (305) 707-7126
Fax: 305-397-2277
Hours: Monday-Friday 9am - 6pm